Producing premium Seedstock on the Western Downs, Qld. Casa Toro is a progressive family-owned Simmental Stud proudly backed by over thirty years of proven breeding and fortified by a solid record of results and performance.
The Casa Toro herd was established in 2012 and was based on breeding Black and Red Simmentals alongside the family-owned Traditional cow herd under the Billa Park Prefix.
Through family succession, a portion of the Billa Park Cow Herd has progressed into Casa Toro prefix where a rebuild program is now underway.
Scott and Claire, along with their children Tom and Zoe, are passionate cattle breeders that have been involved in the industry for their entire lives. We're especially dedicated to Simmentals and we love witnessing first-hand what this incredible breed continually offers the Beef Industry in Australia. We believe that now, more than ever, Simmentals are proving to be at the forefront of industry-relevant, high-performance cattle production with an amazingly diverse range of applications in a challenging climate. We're excited to continue our passion of contributing to the breed from this generation to the next, and we're always up for a chat about all things 'Simmental'; paddock inspections are also welcomed.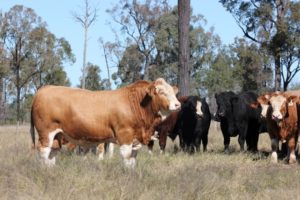 Friday 9th September 2021, 11am
Roma Saleyards
Selling 40 specially-selected Simmental bulls.
Traditional, Black & Red.
View More